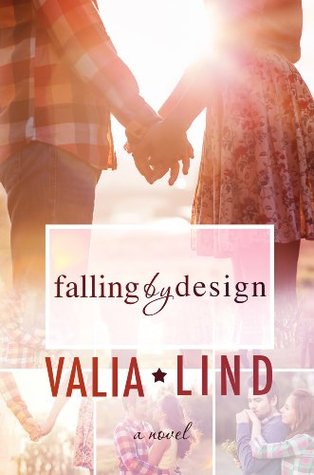 A Young Adult Contemporary Romance 

Falling by Design (Falling #1)

Brooklynn Summers has a plan for her life: graduate from high school, get into a top fashion school, prove to her family that she's not a failure. She wishes someone in her life understood her need to create because her parents sure don't support her dreams, her sister hates her, and the deadlines are soon approaching.
Enter Grayson Banks.
There are a few things in life Brooklynn can't stand: mismatched patterns, cheap polyester, and Grayson. No boy has ever publicly humiliated Brooklynn like Grayson has. When he suddenly moved away in eighth grade, Brooklynn happily wished him good riddance. But on the first day of senior year, Grayson comes back, with his piercing blue eyes and a smile that melts icebergs, he is not exactly the boy Brooklynn remembers. She quickly realizes that Grayson's intentions have completely shifted, but she's not sure if she can put their past behind her.
Grayson understands Brooklynn's creative ambitions and he devises a plan to showcase her work to the world. When the two agree to work together, suddenly, there is more than just fabric paint that's having a chemical reaction to its environment. Brooklynn cannot help but feel pulled into Grayson's arms, but memories and misunderstandings surface, putting in danger whatever small comradeship these two childhood enemies have constructed.
Can Brooklynn overcome her own insecurities, finally making her dreams come true? Even a dream she didn't know she had.
This is a story about a girl with big dreams and a boy who helps her achieve them.

Buy from my Indie Bookstore: Changing Hands Bookstore

Links: Amazon I Barnes and Noble I Book Depository I Goodreads 

Edge of Falling (Falling #2)
For Chance, there's always only been Dakota. 
He's been in love with the girl since the day they met. He's tried everything to get her to notice him and nothing has worked. So when things suddenly start moving in the right direction, Chance can't believe his luck. 

Until Kyle comes along.

Kyle is like a new shiny toy and Dakota loves new and shiny. She falls for the tall, blonde and gorgeous fast and without looking back. Dating the summer before college wasn't in the plans, but come on, Kyle is perfect. So why does Chance and his snarky grin keeps popping up in her mind now that Dakota has found her happiness?

When Chance's world comes crashing down, Dakota proves the strength of their friendship, surprising herself and everyone around her, by helping him pick up the pieces. In return, Chance is finally able to crack her hard shell, discovering that not everything is sunny in Dakota-land. Her world is not what it seems on the outside, and together, they're able to pull each other to the brink of safety and sanity. 

Dakota likes that things are simple with Kyle, so why does she feel more like herself around Chance?

As graduation grows closer, both Chance and Dakota learn that the plans you make for your life don't always play out the way you expect them and sometimes, everything starts to make sense when you find yourself on the edge of falling. 

Buy from my Indie Bookstore: Changing Hands Bookstore